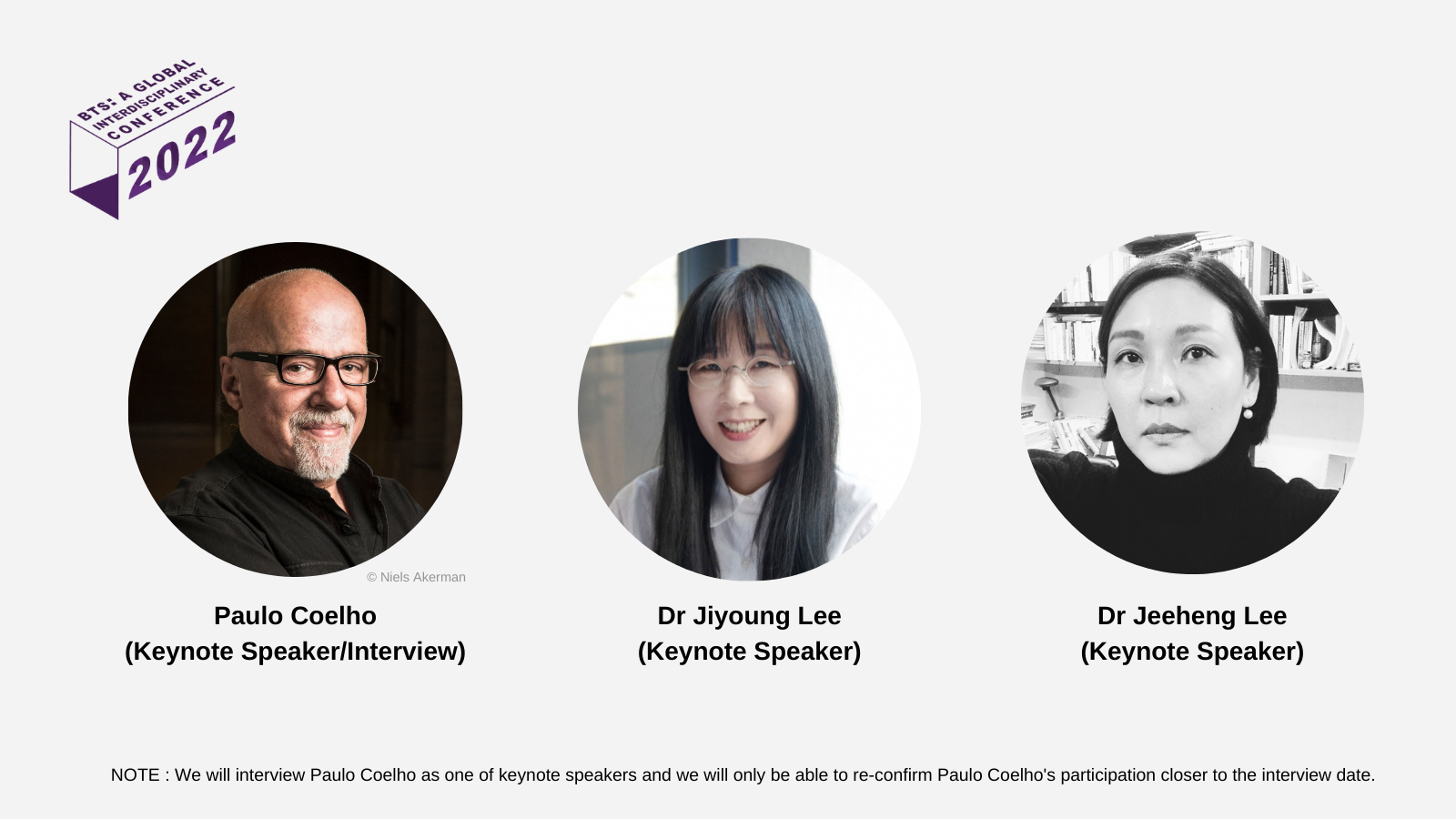 Paulo Coelho, born in Rio de Janeiro in 1947, is one of the bestselling and most influential authors in the world. The Alchemist, The Pilgrimage, By the River Piedra I Sat Down and Wept, Brida, Veronika Decides to Die, Eleven Minutes, The Zahir, The Winner Stands Alone, Aleph, The Spy, Hippie and The Archer among others, have sold more than 320 million copies worldwide, have been released in 170 countries and been translated into 88 languages.
Coelho received numerous prestigious international awards, among them, the Chevalier de l'Ordre National de la Légion d'Honneur. He has been a member of the Academy of Letters of Brazil since 2002 and a Messenger of Peace by the United Nations since 2007. In 2003 he received the Guinness World Record for most translations of a single title (The Alchemist) signed by the author in one sitting and several years after, in 2009, he received a new Guinness World Record for the most translated author for the same book (The Alchemist).
Dr Jiyoung Lee is a HK Research Professor at Hanguk University of Foreign Studies. She published BTS, Art Revolution, Digital Revolution and Music and more. She has researched on BTSology, philosophy of G. Deleuze, Film Studies and Media Aesthetics.
Dr. Jeeheng Lee is currently teaching film & cultural studies at Chung-Ang University(Seoul, South Korea) and also a member of the Video Subcommittee for the Korea Media Rating Board(KMRB). Her recent publication is <BTS and ARMY Culture>(2019) & <Femidology>(2022).
Dr. Byongjin Ahn is Professor in the Global Academy for Future Civilizations at Kyung Hee University in Seoul, Korea. He is formerly rector at Global Academy for Future Civilizations. He is currently co-representative at People for Earth. He is also an op-ed columnist for Joongang Daily Newspaper and guest commentator for the Korean Broadcasting System(KBS).
Dr. Colette Balmain is a senior Lecturer in Media and Communication at Kingston University. She specializes in East Asian cinema and cultures and has written numerous articles and reviews focussing in on identity politics, aesthetics, and ideology. Her first book was Introduction to Japanese horror film (EUP: 2008) and she is currently working on an edited collection on BTS as well as a monograph with a working title, Beyond the symbolic: performativity, authenticity, emotionality as feminist masculinity in BTS. She also writes for London Korean Links, View of the Arts, easternKicks.com and Asian Movie Pulse.
Dr. Youngdae Kim is a music critic and author, holding a Ph.D. in Ethnomusicology from the University of Washington, Seattle. Born and raised in South Korea, he lived in the US from 2007 to 2020 where he studied music while observing and documenting the evolution of global K-pop over a decade. Kim has contributed his critical articles to both Korean and American media, including Vulture, MTV, and the Hankyoreh, and appeared on numerous TV/radio shows, podcasts, and public/academic lectures globally. He is the author of multiple books, including BTS The Review: The Comprehensive Look at the Music of BTS (2019) and Idols as Artists in the K-pop Era (2021)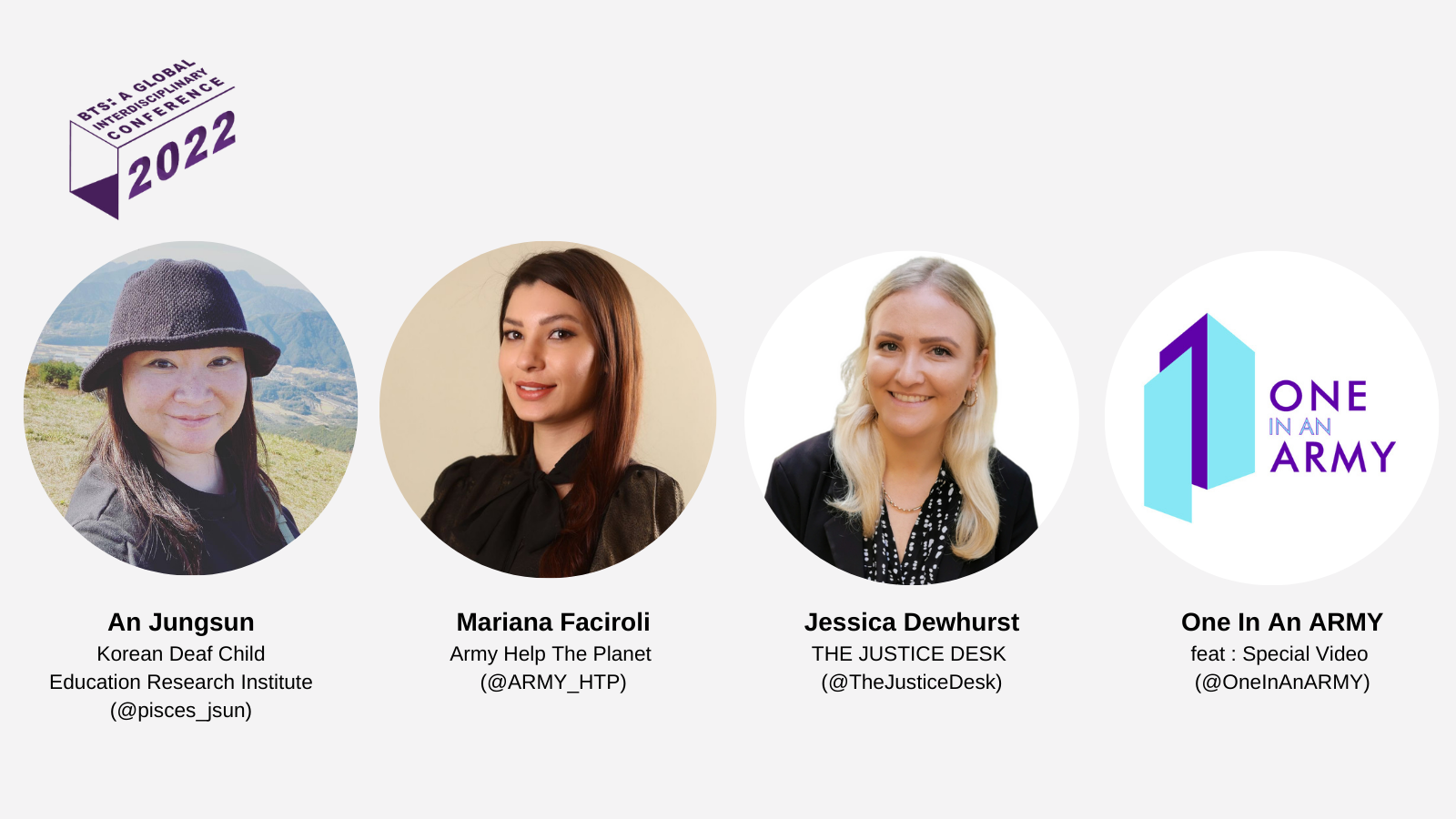 Jungsun An is a Korean Deaf Child Education Research Institute President. Her current research and campaign focus on the improvement of education for the Deaf child. She will share how the Deaf community has developed positive perspectives about RM's donations for music education, not for Cochlear Implant surgery. In addition, as a Deaf Army herself, she will illustrate (or exhibit) the changes she has experienced in terms of the accessibility at BTS concerts for people with disabilities.
Mariana Faciroli, Lawyer. Master in Law and Development from the University of São Paulo (USP) - Ribeirão Preto Law School. Researcher on the theme of Sustainable Development, focusing on the 2030 Agenda and the Promotion of Decent Work. Co-director of Army Help The Planet (AHTP), a project that develops crowdfunding and awareness campaigns focused on social and environmental issues. In this session, she plans to present how BTS and ARMY have contributed to the sustainable development of Brazil.
Jessica Dewhurst is a human rights defender from South Africa. She is the CB's UN African Province Advocacy Director, as well as the Founder and CEO of the award winning human rights organisation, The Justice Desk. TJD focuses on educating, advocating and equipping youth, government, civil society and vulnerable groups across South Central Africa in human rights.
One In An ARMY is a collective group of ARMYs from around the world who work together to organize, facilitate and record ARMY charity work and charitable donations. Our motto is "Big Fandom, Big Difference."
We intend to discuss how thanks to BTS's influence, ARMY has made an impact all over the world, not only in helping others, but in changing the face of fandom and philanthropy.